I recently saw the film Gloomy Sunday. While watching the big love story from Budapest in the 1930', during the scene when beautiful Ilona and her boyfriend László are having a feast in a stand-alone bathtub, to be precise, I thought to myself "Wow, how beautiful is that!" The whole room filled with plants, there's a large window and lots of light, golden retro accessories.. Yes, the wow was for the bathroom interior. I got busy and created an inspiration board which I'm happy to share with you.
Resourse of pictures: Pinterest
Let me know if you've seen this film. What do you like most about films? Maybe funny lines, thrilling moments or something else, for example, interesting interiors?
Lately, I hardly ever get a chance to watch a film. And when it actually happens at home (or I even go to the cinema), the film keeps living in me for some time afterward. In my mind, the main characters become my good friends. The plots keep racing through my head for the next few weeks. And at times, I visualize myself at the place from the film I like. Is it just me or does it happen to you too?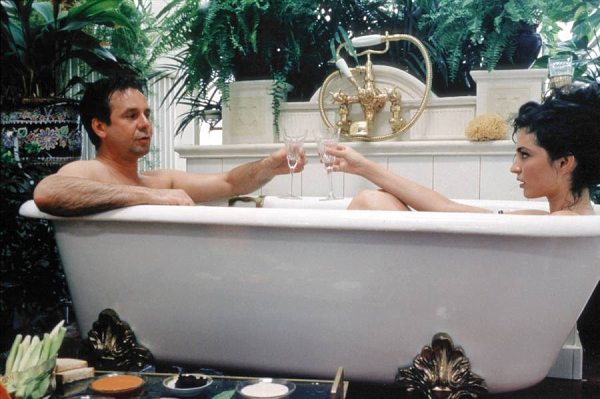 Resourse: movie – Smutná neděle – Píseň o lásce a smrti (https://www.csfd.cz/film/112662-smutna-nedele-pisen-o-lasce-a-smrti/prehled/)