Last weekend, I took part in the International Festival of Contemporary Art in Průmyslový palác (Industrial Palace) in Holešovice.
The entire hall was filled up with stunning pieces of art. Though, I'm not going to lie to you, not that many people were there to appreciate it. Not even the musical program succeeded to attract crowds. Well, certainly not as big ones as Hamburger Fest next door.
Being a newbie exhibitor, I had to muster up courage to go out with my canvases, which I've put a piece of myself in. I was waiting nervously if people will be interested in my art, how they will perceive it… I was silently observing the shuffling visitors. Some didn't stop by, just glanced briefly, not to feel obliged to chat. The ones who were happy to chat were people on a similar path, experimenting at home and seeking some inspiration. One man game me a thumb up. Some winked and smiled, took a picture and carried on walking elsewhere. Even few collectors of leaflets and business cards appeared, filing them carefully into their folders, not caring if the artists were making abstract art, statues or bracelets. They were taking everything.
It was a very precious experience indeed. I pushed myself to complete unfinished paintings and start new ones. I've also learned quite a few new lessons for next time. For example, at such an event, it's much better to exbibit two or three bigger canvases to draw people's attention. Many tiny pictures give the impression of a flea market, therefore aren't suitable as the buyers are few and it's important to gain their attention.
All my exhibited canvases contained floral motives. I value the most the oil canvases with iris and water lilies.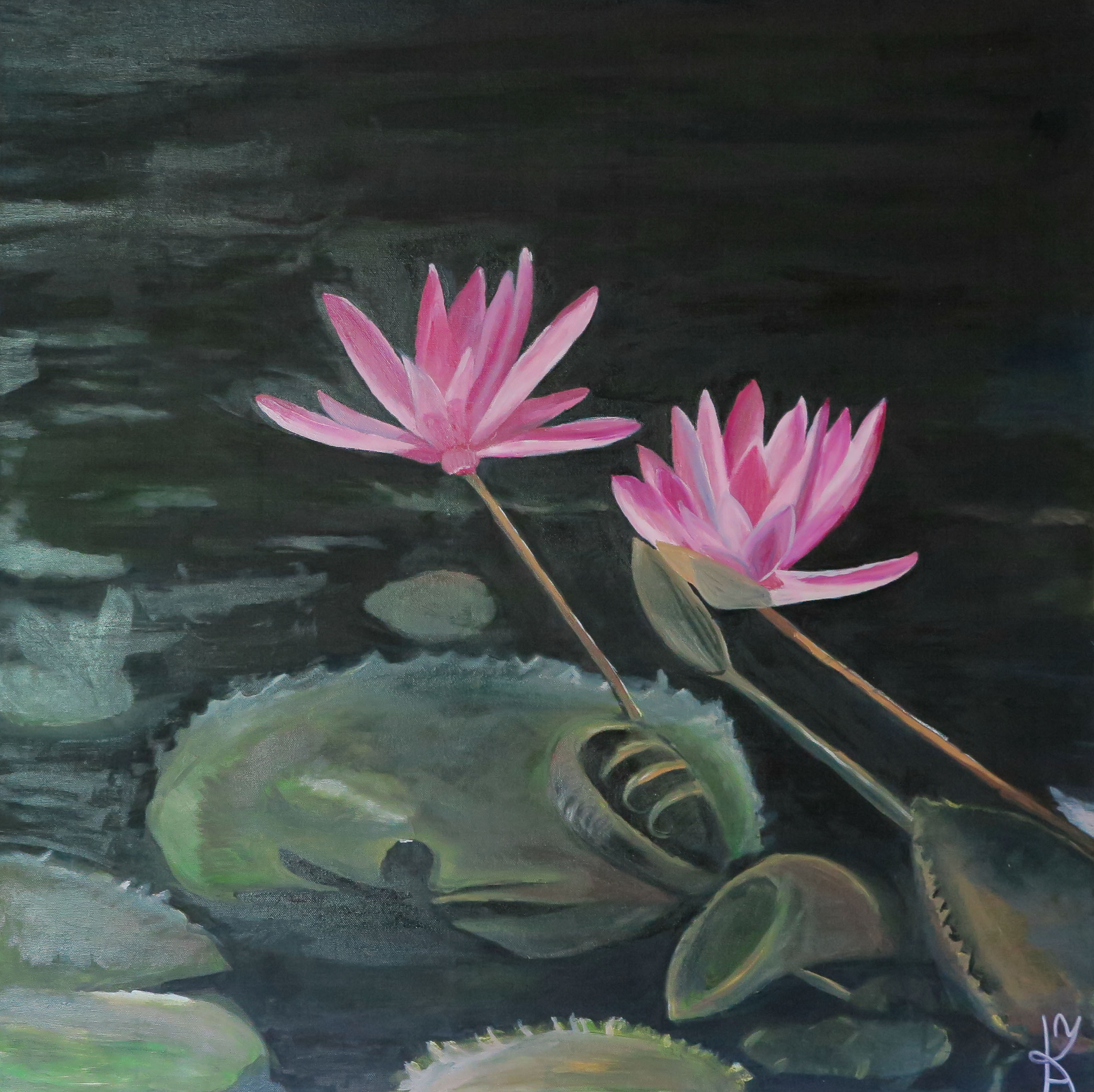 I signed up for the fair with Dan (my beloved), who presented his new project Good Picture here – art photography made using alternative techniques without the use of digital technology. It's actually a form of noble print from gelatinous negatives.
In addtion, our stall was added to by his previously painted canvases. An unrivaled success was gathered by The Girl with a Bag (we call her The Bitch). There were remarks such as: "She had to be really ugly." "Does she even have a face under that bag?" The truth is that Dan snapped a poster in a pub's bathroom and then lovingly used is as a dummy for drawing graceful curves. When he reached the girl's face, he got a breakthrough idea to take a piece of jute and cover the face with it.
I'd like to thank my mum and dad for coming to support me and also to my friends who stopped by at our stall no.52. I really appreciate it.
And where do you buy paitings with soul directly from the author?